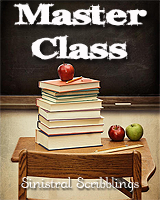 Master Class, Week 8
First the congratulations and the prompt: This week we had two aces. Michael of Innocents and Accidents, Hints and Allegations went outside the box with the cosmos of newborn parenting in
Baby Monitor
, and Tina of Not Just Another Mother Blogger came through with a calculated tale of domestic abuse with
The Laughter of the Cosmos
.
I asked them both to open a book and give me the first line from each. Tina chose
Shadow of the Night
by Deborah Harkness
.
Michael chose
Winter Journal
by Paul Auster. Your lines this week are:
From
Shadow of the Night
:
You can use these lines in any order, however you must begin the story with one and end it with the other. Please identify the lines in the story by enclosing them in quotes, bolding, or italicizing.
And now, my excuse prologue; I'm trying something a little...well, crazy here this week. I have been writing and linking up to several prompts every week. I've combined prompts and I've written separate stories to the individual prompts. This week my goal is to write one story, and split it into parts. Each part fitting one of the prompts I use. It's my hope that each part stands alone, yet makes one understandable tale all together.
Part one is here Part two is here and Part three is here and Part four is here
Okay then, on to the story....
"
The past cannot be cured,
Meeribel
.
" Arlord said. "You are Princess of the Realm of Windmore. All the choices that were made, by you, by myself, or by others, have placed you here."
"You're saying that my father's choice to trade me for a ewe made me a princess?" Meeribel raised an eyebrow, "He only wanted me to learn to be a lady. I'm sure becoming Princess of the Realm was not part of his vision."
"Had he not sent you to the herbwife, who introduced you to Witch Willin, do you believe you'd be Princess now?" Arlord asked.
Meeribel raised the other eyebrow, "Maybe. Perhaps if my father had made a different choice, so would your father have made a different choice. And perhaps, a different Prince would have come to the farthest reaches of the Realm of Windmore. And perhaps, that Prince would have chosen me to be Princess."
"Perhaps," Arlord chuckled. "And would you still think that princessing was too much work?"
"Probably," Meeribel sighed. "It can be very tiring to always smile and be polite."
"That is part of the duty of a princess, Meeribel."
"Part of the duty? What else would a princess do?"
"Well, a princess could, if she had the knowledge, inspect the royal flocks. Then she could report on the disposition of those flocks." Arlord continued, "I have no real expertise in that matter. I can only accept what is told to me by the royal shepherds."
"We have sheep? Why did I not know we had sheep?" Meeribel exclaimed.
"You never asked if we had sheep. You have never asked anything about the running of the Realm, Meeribel."
Meeribel looked away from Arlord, her brow furrowed. "I never thought about the running of the Realm. I suppose I thought it simply took care of itself." She looked back at the Prince, "I think I would like to learn more about that, perhaps I could do more than smile and be polite."
"It could be harder work," Arlord said with a wink.
Meeribel grinned, "It could not possibly be harder than smiling for no reason all the time. How much is there to learn?"
"I expect you will still be learning, Princess, when
you have entered the winter of your life.
"
The End???