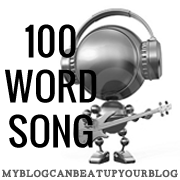 100 Word Song – Car Jamming
Linking up with Leeroy again. This one made me think. Then the muse came home and it was all okay!
As always, you have 1 week from, now, to write 100 words inspired by The Clash's Car Jamming. Be sure to use the Mr. Linky at the bottom and tweet/book o face/google +/smoke signal your link and tell a friend or 50.
It was all they had. This old car, parked in an alley where the street lights had all been shot out. Bald tires and peeling vinyl top made it seem right at home with the rest of the trash.
Classic rock blared from the old radio, tinny and under amped. The jug of Boone's Farm, emptied hours ago, lay abandoned on the front floorboard amidst greasy wrappers that once held greasy hamburgers.
They rolled around the back seat, steaming the windows and risking the remains of the shock absorbers. It was all they had, this old car.
And each other.