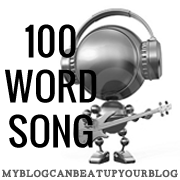 I have to admit, I've missed Anne Marie and Liam, the music more than the words built this...
"The elder ones always put up such a fuss, sweetling?"
Anne Marie shrugged as she finished cleaning the gore from her sword. "Depends on how tired of it they are." She grimaced as she resheathed her weapon. "If you must feast on it, Liam, wait until I've left."
"There be things even ghouls won't eat, Annie, me love. Werewolf bein' one," Liam answered. "Suppose I ought dig a hole for the bits 'n pieces ye've left?"
Anne Marie raised her head, redrawing her blade at the same time. A low growl repeated from several yards away.
"Better dig two, Liam."
As always you have 7 days from right now to write 100 words inspired by my wife's love of The Band Perry and their new song, Better Dig Two. Make sure you use the linky below and then tweet/book o face/and smoke signal your handiwork. Tell a friend or 50.