This image and These words from "Some Night" by FUN:
I found a martyr in my bed tonight
She stops my bones from wondering just who I am, who I am, who I am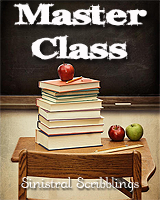 Tiger Eyes – Master Class 2013 #5
Congratulations to Carrie!
In keeping with "changing it up," when I asked Carrie for a line from a novel, I asked her to give me the last line. That's right class, this week, you have to END on the prompt, not begin with it. Carrie chose
Judy Blume's Tiger Eyes
, which ends with:
Maybe that's the way it's supposed to be.

and on to the story...
Liam hunched through the afternoon downpour. His footing was sure on the rain slicked rocks as he climbed the rise toward the abandoned chapel. At the foot of the cracked and weather warped granite steps he stopped to survey ruin. The walls were mostly intact, the turrets not all crumbled.
He mounted the first six stairs. Before he could reach the topmost step, a rush of air pushed him back. Leathery wings spread wide, framing a bestial face. The features were the same shade as the walls of the chapel. The cheeks and forehead were similarly marred by the erosion of years and weather.
"Thou shalt not enter this holy house, Liam Braden." Its voice was as eroded as its face.
"Ye're not serious, are ye? Tis my family land, gargoyle."
"Thou art unclean. Thee may not enter."
"Unclean? I'm soakin' wet!" Liam attempted to side step the creature.
A rock hard hand gently blocked his move. "I am sworn to keep the unclean out of God's house. Thou hast partaken of human flesh, Liam Braden."
"Ah, that. Well, they was already departed this world. It's not like I slew them meself."
"And thou hast committed murderer."
"Self defense." Liam countered.
The wings spread as the monster stood to full height. "The murder of thy Father and Mother were not self defense, nor the killing of thy siblings!"
Liam sighed, "No, but I was under a compulsion. It was not me fault."
It was the gargoyle's turn to sigh. "A geas set upon thee as the price for the dark gift thee chose to cheat death. Thou cannot deceive me."
"Alright. Ye've got a point. But, honestly, how holy can this place still be? None have worshipped here for centuries. And besides, I helped me father raise ye to the tower. T'was meself that named ye. Cedric." Liam grinned. "Ye were marvelous! All grim power and stony strength."
"Thee was a good boy then, Liam. Cedric, yes, I remember."
"Then let me in, old friend. We'll reminisce."
Cedric pondered a moment. "My strength is not what it was, I am lonely. Against my judgement, I bid thee enter Liam Braden."
Together, they walked into the nave. Liam was surprised and unexpectedly pleased to see the stained glass behind the pulpit was intact. The weak light of the dreary day muted the once vibrant hues as they tinted the decomposing body that lay across the podium.
He glanced sidelong at the creature next to him. "Ye've been entertaining?"
"Badly behaved youngsters. They thought to practice the black mass. In fact, summoned a demon before I could rouse myself. I had to put a stop to that."
"And the others?"
"Fled. This one chose to martyr herself for her demon." Cedric gazed sadly at the corpse. "A wasted effort. I sent it back to Hell anyway."
"I see." Liam eyed the remains hungrily, "Perhaps I was sent to help ye cleanse the house. I could, oh, dispose of that bit a mess for ye."
"Ghouls!" Cedric rolled his stony eyes. "Alright then.Maybe that's the way its supposed to be."