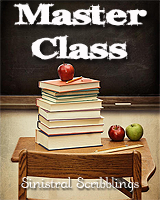 Week #4
This week's book is the
Margret Atwood's classic, The Handmaid's Tale
, whose opening sentence is:
We slept in what had once been the gymnasium.
here is my offering;
We slept in what had once been the gymnasium. I'm sixteen now, so me and Gram and some of the men is on roundup. Roundup is where we go out to the old, hardpack trails and find other peoples looking for a safe place to stay. Cause most places isn't safe. That's why the fedment wants everyone to live in partments under they law.
But it got night so we stayed in the gymnasium. That's what Gram called it. She said it was a part of schoolclass where kiddos practiced sportplay.
I never had school. They stopped when I was two. Gram said a lot of things stopped when the sick came. Gram said a lot of peoples died. Like my dad, and big sis. I don't remember them.
Gram is got a freespace. Fams get they own househome to live in and a little dirt to grow veges and berrifruit. Some fams share they dirt to grow beefs and porkers for food. And some grow different kinds a woolies to get they hair for making wear and covers. And we use they milks for soapbars.
Mama says they used to be mallmarkets to get all that stuff for money. I don't understand what she means. We trade things we make good for things other people make good. I seen money, but it doesn't look like it's good for anything.
Gram shows new people stuff they can learn to make so they can trade for what they don't. Sometimes partment people sneak out to trade stuff the fedment give 'em for freemade stuff. They say our foods is better tasted than what they get.
They bring tronics and metals and meds to trade. We dont make many meds. We use herbleafs. But sometimes that's not enough.
Metals get made into pretties or tools. We use the tronics to hear netspeak. That's how we know its time for roundup.
Peoples get on the freenet and say they going to find space and what way they is going. The bad part is bandies listen too. Sometimes on roundup we find peoples robbed and dead. Sometimes we help peoples get away.
The peoples that lived will come to Gram's freespace or keep on to find they own. We hope they get luck. Some just go to the partments so they don't have to work dirt.
Working dirt is hard, but I get all I need from it. Gram showed me growing and puttinup. And I can make my own wears and covers from woolie hair. I can cut it off the woolies and spin it. Then I can weave and knit for pieces of wear.
Sometimes I trade my makes for tools to make dirt work easy. Sometimes I trade for pretties. Mama trades for books if she can find 'em. She tries to show me how to see the words. Its hard, but I can know some of 'em.
She says I need to know more so I remember how to make stuff. And learn to make new stuff. So I try hard as I can. I seen pics of stuff I want to know how to make. Mama has lots of pics. Sometimes they make her cry. She won't say why.
One of the fams here has a girl kiddo I like. She makes pretties and she makes good wears. She can know a lot more words than me too. She helps me know some.
I hope when I get my own househome and dirt she will like to work it with me.