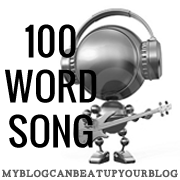 Whee I got to pick the song this week! I chose John Wayne by Billy Idol, you can see it here: http://t.co/Tmt4JQg
"

I'm

not afraid," he'd said.
He

didn't

understand. It wasn't a matter of his fear, it was a matter of his choice. A choice that changed everything between them.
She turned her back and walked away.
"I am not afraid,

" she told herself,

"I am not afraid of being alone."
It would be better that way. No hearts to distract her. No one to tie her down.
"Tonight, it changes. I keep my soul to myself. No more pretense of normalcy."
She mounted the waiting pony, clutched the familiar hilt of the ancient sword.
"

Just you and me, my love

."