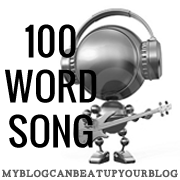 It was my plan to link up with last week's 100 Word Song. But I waited to long. Sad me.
However. Since Leeroy gave us an additional 20 words to play with, I altered my original idea to encompass both tracks.
Cause they said we could break the rules!
It whispered her name. "Elise."
A soft plea. "Come."
Silver rimmed shadow, pulsing gently.
"Did you get hold of Granny yet? We need that cash"
"Elise, come."
Chewing her lip, she took a hesitant step.
Silver swirled into shadow with anticipation.
"Come, Elise. Nothing to fear."
"I know, I know! She don't answer her phone."
She stood, undecided.
It waited patiently.
Finally another faltering step.
"Be free, Elise. Come."
"Try again!"
She cocked her head, eyebrows furrowed. "Free?"
"Free, come Elise."
She stretched a gnarled hand toward the shadow. A ribbon of silver caressed her bent fingers.
She grasped the silvery thread, followed with trust.
"I did, some young chick answered. I musta got the wrong number."
She was free.
The Songs...
You have seven days from NOW, to write 120 words on Wrong Number by The Cure chosen by Melissa aka @realgirlmelissa. Link up to Mr. Linky below then tell a friend or fifty via the medias that are social
And....
And She Was, by the Talking Heads and chosen by Tar Rah. Use Mr. Linky below then social media out your link and tell a friend or fifty.