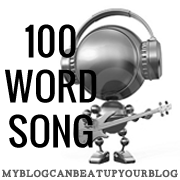 Lyssa Medana
It's been a long time since I've written anything. I feel dull and rusty. But I desperately needed to jump back. So I combined prompts, an old haunt of mine Lance Burson's 100 Word Song and a new place, Light and Shade Challenge, hosted by Thomas Marlowe and Lyssa Medana. The song, Bigmouth strikes again, by the Smith's. And a photo from Light and Shade. So here are 100 words....
The sun's morning rays filtering through the trees massaged Jonah's cramped muscles to wakefulness. He sat up slowly, began to gather the shreds of the clothing he'd been wearing last night.
With a sigh, he looked about, trying to get an idea of where he might be.
Then he caught sight of a rabbit's remains only a few feet from the wall he had been curled against.
Overcoming the nausea and sense of defeat, he wondered idly what the time was. Eventually, he'd have to find his way back. Pretend this was a bad dream, and rejoin the human race.